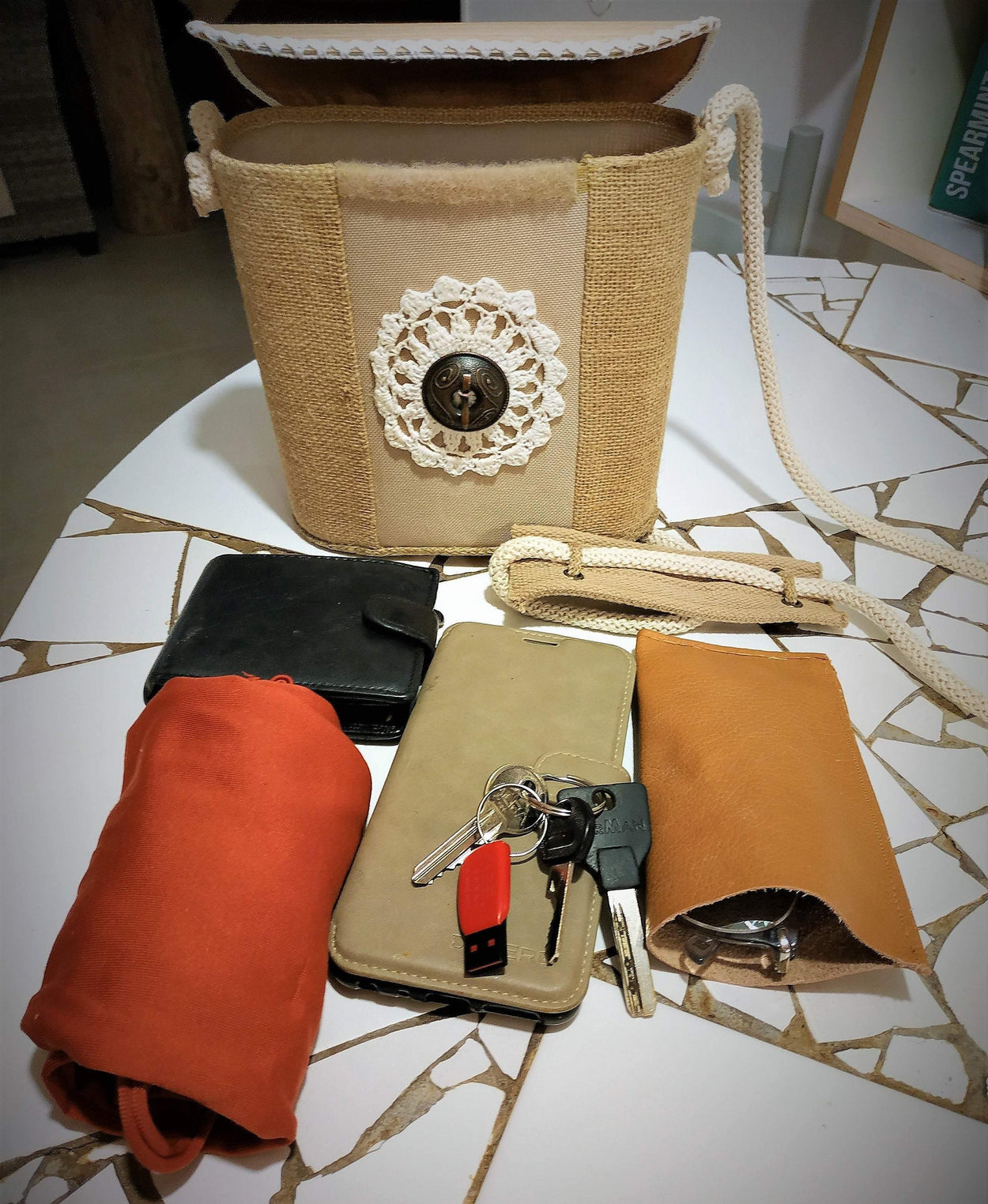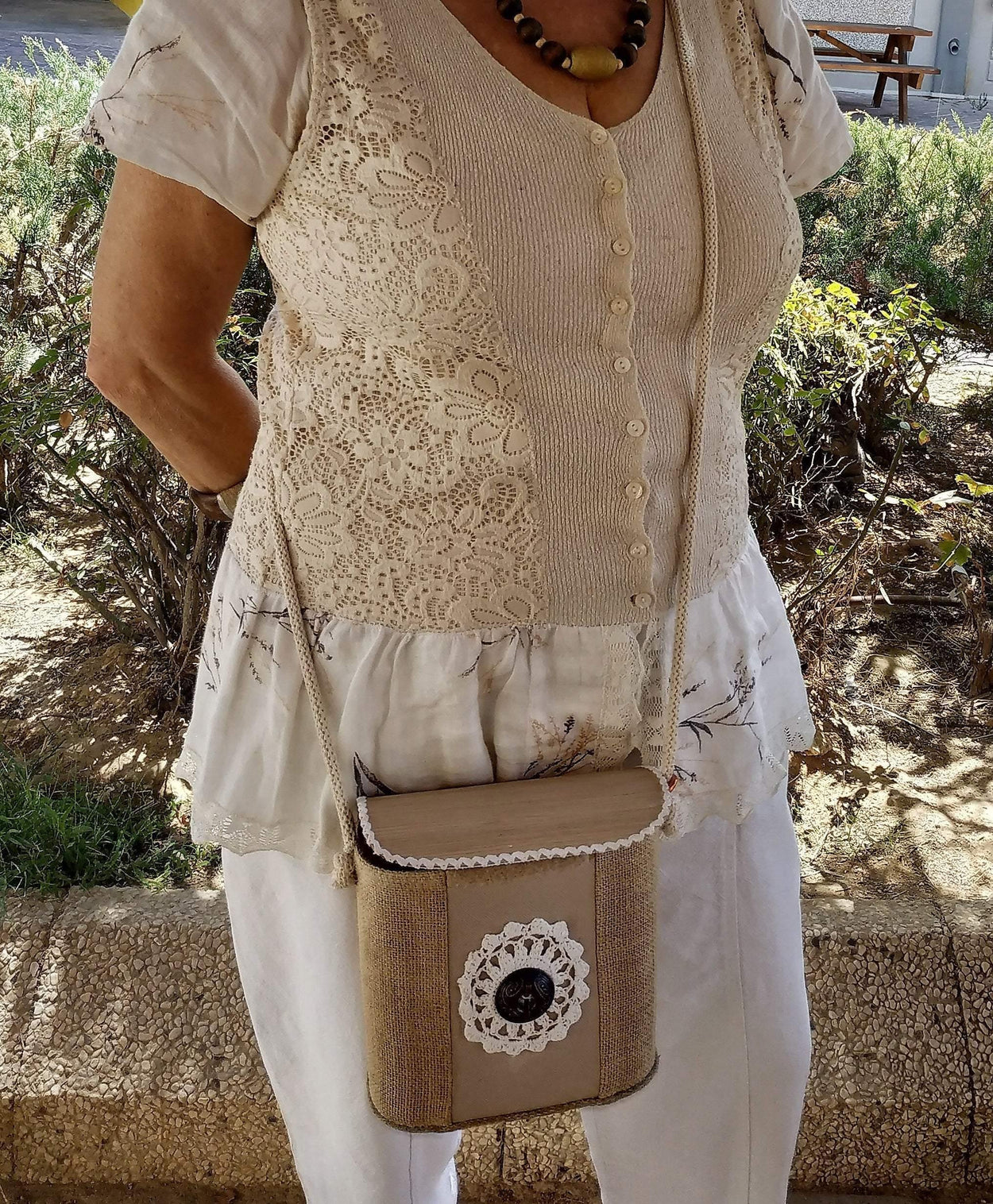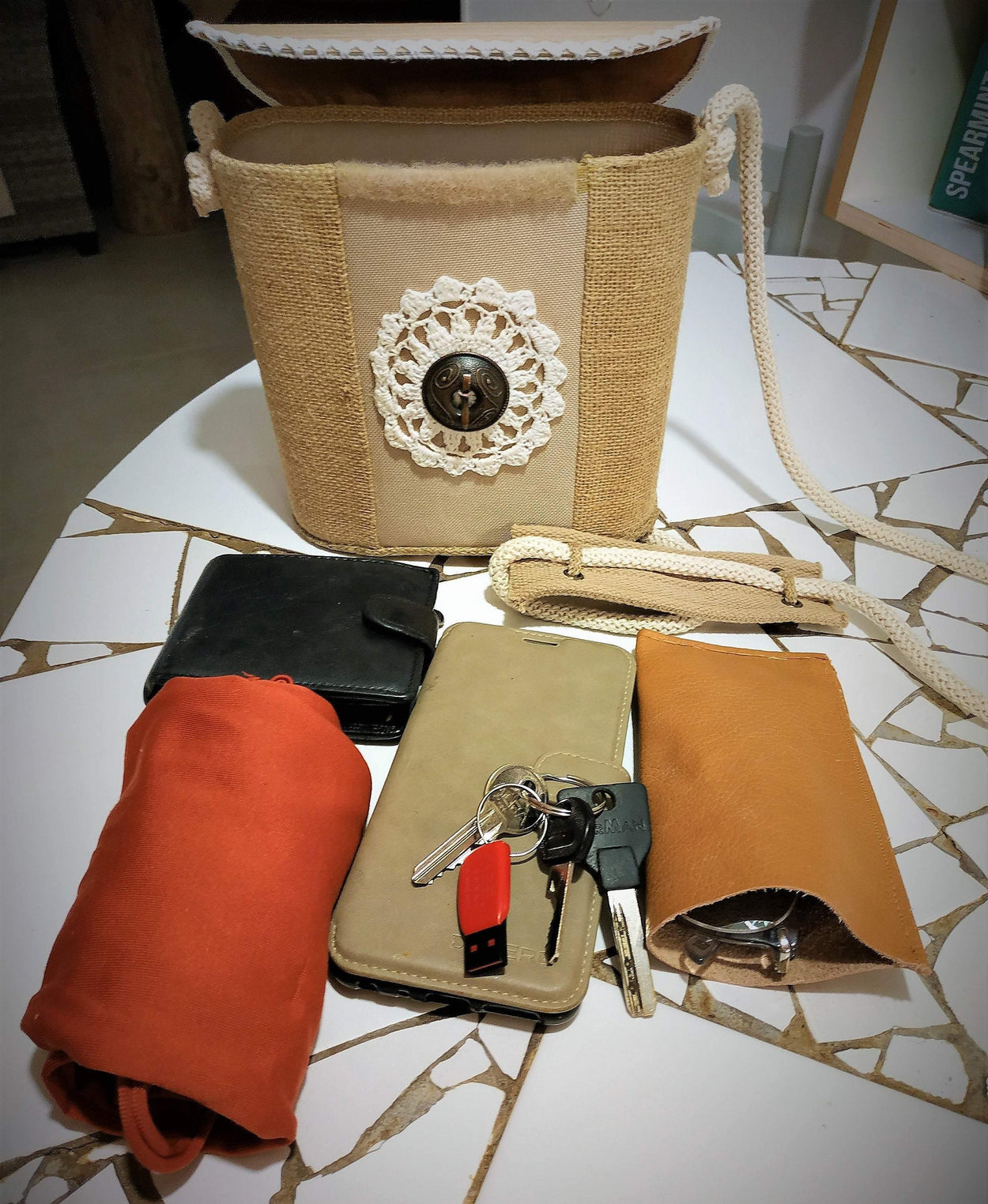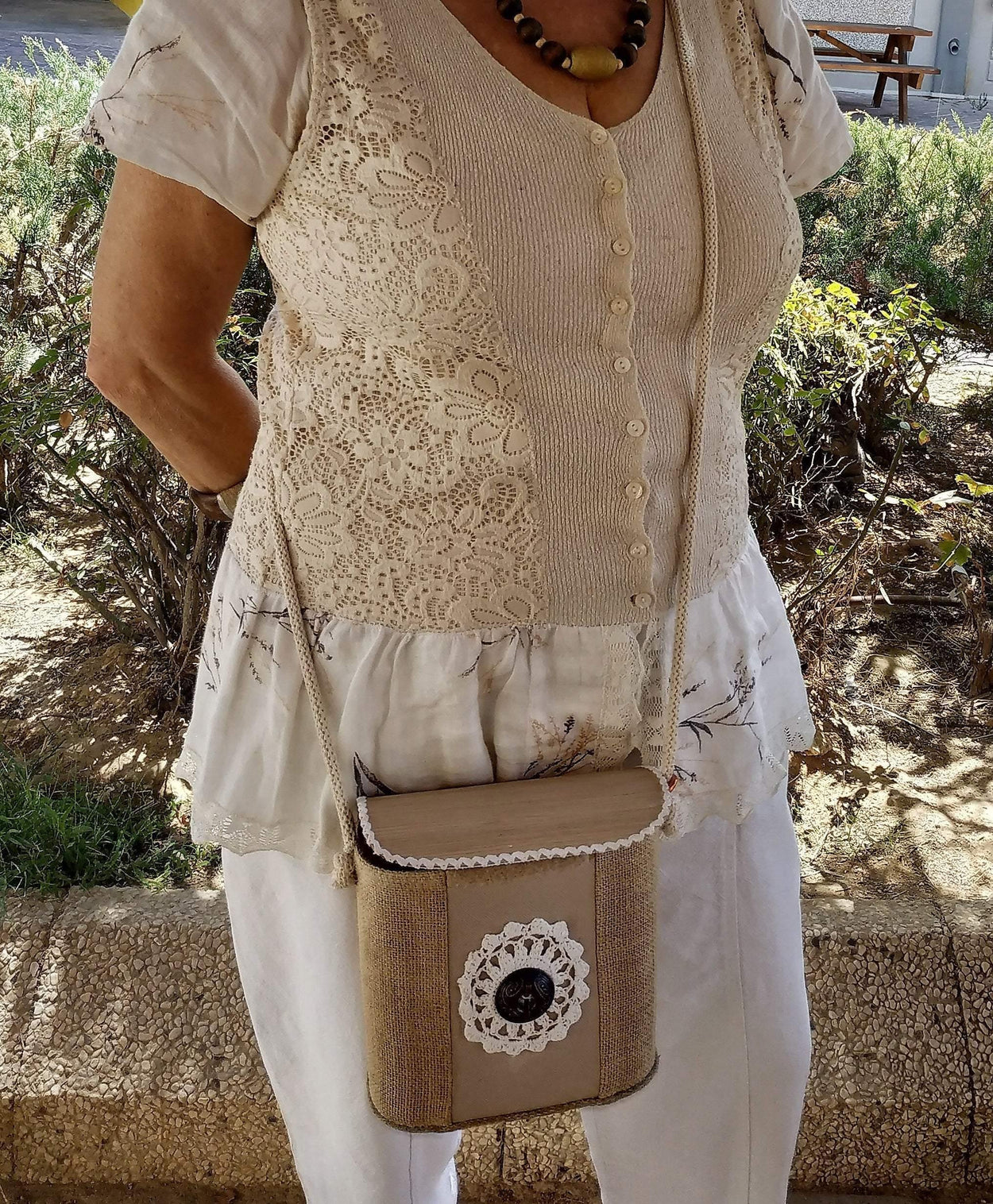 GLEZANT
Exclusive light crossbody burlap box-bag in Boho style
Free Shipping
1) 
The bag is made out of a very durable plastic frame which keeps it's shape well. On the outer layer it is sewn with burlap, silk, veneer and lace and decorated with an ethnic brooch.
The bag is designed to have everything in it near at hand. The key is attached to the handle of the bag with a spring hook. All of the other necessities: the purse, phone, glasses and a large plastic bag from shopping, all easily fit in it, without rolling from side to side or over each other. Thus, the order inside of the bag is always preserved.
The lid is sewn with light veneer from the outside, with silk from the inside, and lace on the the edges. The bag is fastened using velcro tape.
The handle is long enough to be worn diagonally across the entire body, and to help distribute the pressure on the shoulder it's made wider in the middle.
Inside the bag does not have any pockets, as it itself serves as a pocket. It also lacks a traditional lining, instead of it eco-leather. This promotes having the inside nice and clean, since the eco leather can be easily wiped with a damp cleaning cloth whenever needed.
The bottom of the bag from the outside is sewn with leather and with cord along the edges.
The entire bag is treated with a special compound which helps to repel dirt.
The dimensions are:
Height 17 cm
Length 17.5 cm
Depth 9 cm
Handle length 124 cm
2)
The bag is made out of a very durable plastic frame which keeps it's shape well. On the outer layer it is sewn with burlap and a jute cord along the edges. It is decorated with lace and a large decorative button. The outside of the lid is made out of a bright veneer, the inside is made with a linen cloth, and along the edges it is sewn a lace braid. The bag is fastened using velcro tape.
The handle is long enough to be worn diagonally across the entire body, and to help distribute the pressure on the shoulder it's made wider in the middle.
The bag is designed to have everything in it near at hand. The key is attached to the handle of the bag with a spring hook. All of the other necessities: the purse, phone, glasses and a large plastic bag from shopping, all easily fit in it, without rolling from side to side or over each other. Thus, the order inside of the bag is always preserved.
Inside the bag does not have any pockets, as it itself serves as a pocket. It also lacks a traditional lining, instead of it eco-leather. This promotes having the inside nice and clean, since the eco-leather can be easily wiped with a damp cleaning cloth whenever needed.
The entire bag is treated with a special compound which helps to repel dirt.
The dimensions are:
Height 16 cm
Length 17.5 cm
Depth 9 cm
Handle length 87 cm
Delivery time in most countries is around 15-21 days, except in pandemic emergency situations.